Proudly making the UK workwear happy for 42 years
Member News
On Saturday 22nd September MyWorkwear celebrated their 42nd anniversary. From manufacturing golf bags and then cycle bags for Halfords. The story of MyWorkwear is still being written, but one we'd like to share with you.
How did MyWorkwear become the UK's favourite personalised clothing company?
Mike Worthington, shares the story of MyWorkwear over the past 42 years.
I first started the business at the tender age of 23, having gained professional qualifications in A1 product design at Wolverhampton Art College and no ready employment.
My first product was a combined golf bag and trolley called the Clubguard Classic. It had a patented moulding which enveloped the golf club and thus prevented damage and eased selection. The idea was great but the quality less than perfect and garnered a few moans when wheels broke away mid course!
Here are a couple of photo's with Mike using the Clubguard Classic.
I was getting nowhere fast so decided to use the golf bag sewing machines to make cycle bags. This steadied the ship and I was able to contribute add something to my wife's teacher's salary! However the cycle trade at that time was very "bust or boom". Having weathered a few "busts" we concluded that what was needed was a sector which was continually in demand. This proved to be workwear.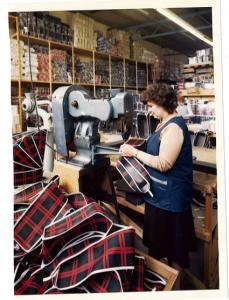 Here is a photo of Pat making Saddle bags for Halfords.
Breakthrough into workwear
Our breakthrough came when a cycle parts customer of ours Halfords required a new bespoke range of coveralls for their new car centres. We stepped up to the plate on a very short lead-time and secured the contract. The coveralls were quite unique with different coloured panels on the chest and the back.
We also worked with Dave Duffield the MD at Halfords to produce a range of clothing called 'Skyway'. This was BMX inspired clothing and was designed to look as if it had just come from the BMX circuits of LA.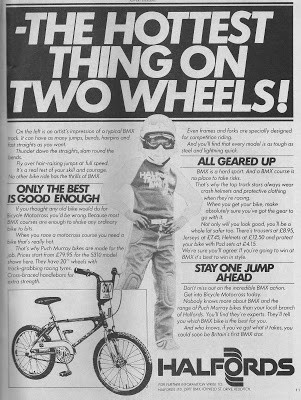 Halfords BMX advert.
Our second "coup" was to manufacture and supply bespoke garments for the many Japanese companies investing in factories in Britain in the early 70's. The garments issued from Japan did not fit the British worker due to our length of arms. Naturally we were delighted to help get the appropriate sizing.
We worked with companies such as Panasonic, Hitachi, Honda and Nissan to mention just a few. When we first presented to the NEC team in Telford, the uniforms that we had taken to show them were tried on and the pop studs dropped off! Luckily they laughed and we got the contract to provide their uniforms.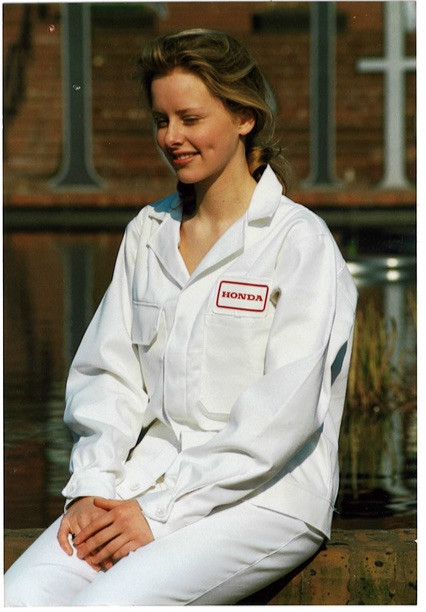 Holly Worthington (James' sister) modelling the Honda coveralls
Micro Laundry were the company who helped us manufacture our Anti static Lint free paint plant coverall. They contacted us as their company serviced factories that applied paint in clean room conditions. This was mainly for the automotive industry, spraying car panels etc. They wanted us to design and manufacture a specialist suit for 'clean rooms'. The suit was made from polyester so that the continuous monofilament wouldn't break. This non fibre shedding product prevents lint contamination of paint being applied to vehicles. This is a product that we still manufacturer today.
Kwik-Fit approached us in the 1980's to produce a line of Kwik Fit Junior Suits. These were available as mini replica's of the Kwik Fit coverall, famed by the advertising campaign 'You can't get better than a Kwik Fit Fitter'.
When the Faulklands War broke out, we worked with the MOD to produce Gortex waterproof socks that were stretchy and breathable. This was to help the soldiers who were suffering from Trench foot during the conflict.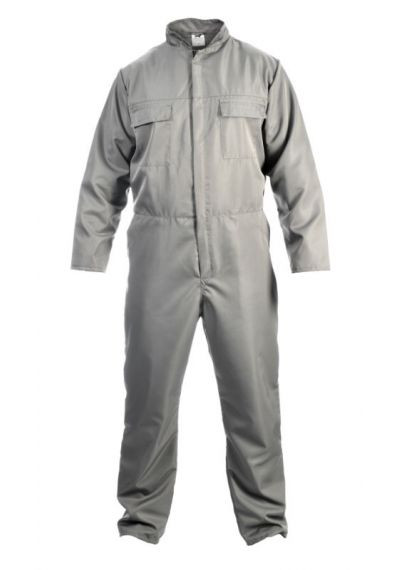 MyWorkwear design and manufactured Anti static Lint free paint plant coverall.
The late 1980's to today
It was at the latter end of the 1980's that we decided to move the focus of the business from just manufacturing into providing pre-made workwear from external suppliers.
James Worthington, my son, and now the MD of MyWorkwear, came to join the company in 2001. He joined us direct from the IT industry, having worked in both the UK and Canada. He bought a refreshing attitude to the business, along with a range of lifestyle clothing, that didn't quite take off!
Around the time that James joined the team, we noticed the change in the way that people were expecting to purchase, or at least browse our wares. Road reps were becoming obsolete and we became one of the first companies to join the online revolution and enable shopping online.
Midland Computers built our website in 2001, and this is where we met Peter Barfield, whom we have been working with ever since.
In the past 17 years the way that the world works and shops has changed dramatically. Since our early days manufacturing for large multinational companies to today where anyone can set up a business and would like to see their logo on one polo shirt. MyWorkwear has adapted and strived to ensure outstanding customer service throughout.
In 2015 Peter Barfield and his business partner Ben Simpson became directors of MyWorkwear. In joining the business they have bought a wealth of IT experience and we launched our new website in early 2017.
During 2017 we noticed another change in the way that uniform was being purchased. Some of the larger companies we work with wanted us to help them with the ordering process. James now spends at least a third of his week travelling to visit customers at their places of work.
In September 2018, Marie Parton, who had been working with us in Marketing for a couple of years, has joined James on the road looking after our Hampshire-based customers.
It almost seems as though we are stepping back to look forward. As ever keeping our customers happy is key.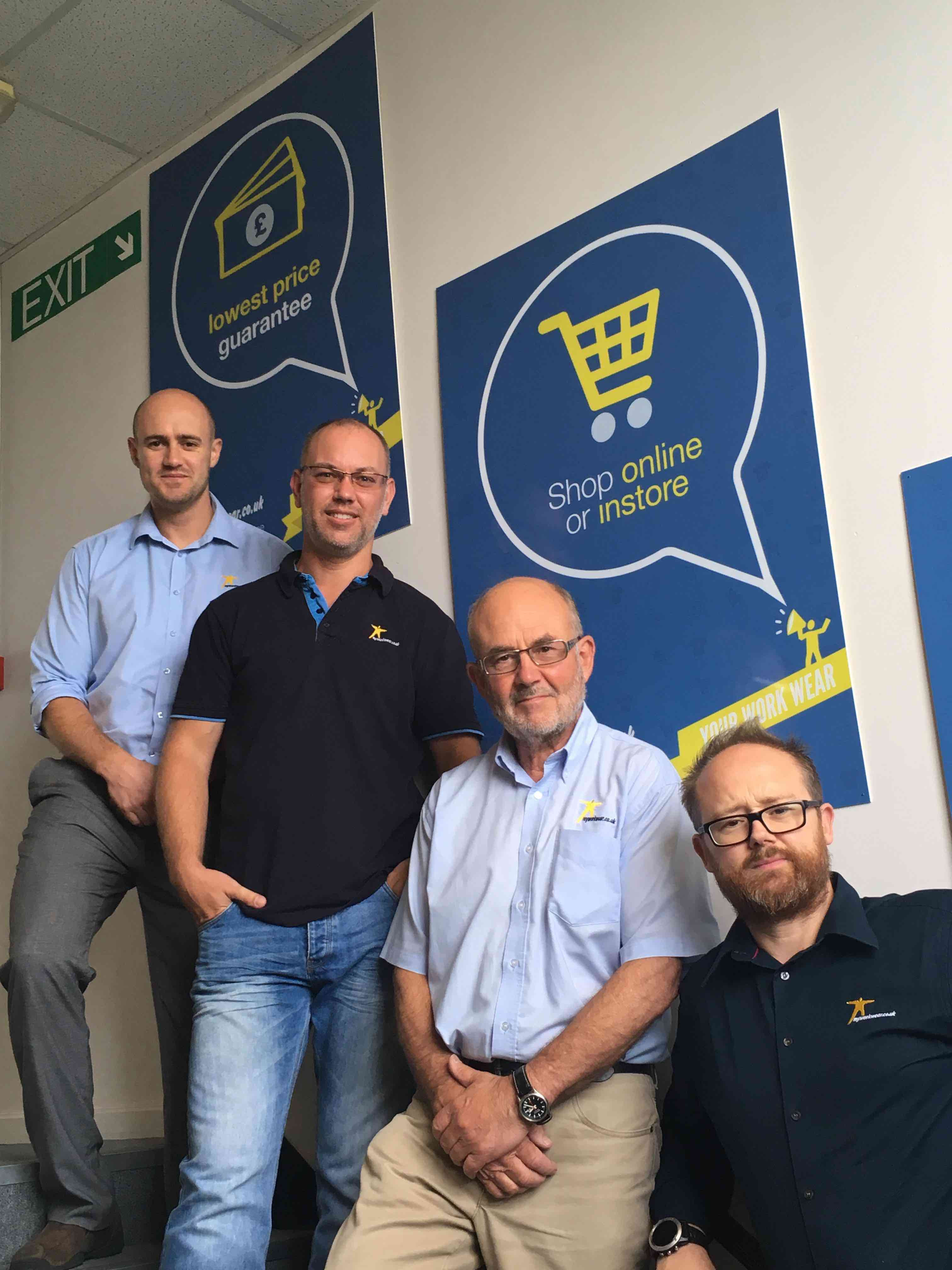 The director's of MyWorkwear from top - Ben Simpson, Pete Barfield, Mike Worthington and James Worthington.